Congratulations to Successful Listing of Weiye Holdings in HKEX Growth Enterprise Market
2016-04-07No. of Hits:1806Author:www.weiyekg.com
At 9:30a.m., April 06, 2017, with opening transaction of stock code 1570.HK, it's a historic moment of successful listing of Weiye Holdings Limited in HKEX GEM, a successful example of double listings at HKEX following that at SGX.
  Zhang Wei, Chairman of Weiye Holdings Ltd, Mr. Chen Chaoguang, member of Securities & Futures Commission, Song Fulin, CEO of Weiye Holdings Ltd, Chen Zhiyong, COO of Weiye Holdings Ltd, Tay Mengheng, CEO of Weiye Holdings Ltd, top management team of Weiye Holdings Ltd, key partners of Weiye Holdings Ltd, and VIP guests, were present at the grand listing ceremony, and collectively witnessed the historical moment of epoch-making significance. It's an important event of milestone in the development history of Weiye Holdings Ltd by listing at HKEX, which unveiled a brand-new chapter of its future development, marked its successful realization of international development strategy, symbolized full recognition of international capital market to its excellent development experience, mature business model, steady market position and powerful executive capacity, and more importantly, it seized the proactive bonus of "Shenzhen-Hong Kong Stock Connect", further increased the liquidity of its stock shares and capacity of multichannel financing, and made available sufficient funds and strong confidence supporting its long-term development.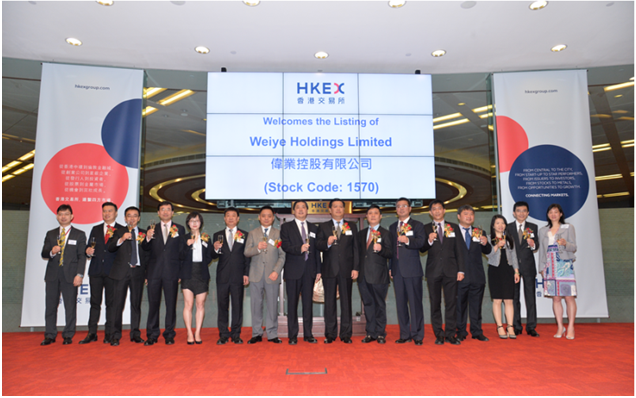 Taking the opportunity of listing in HKEX, and under strategic deployment of "standard, efficient, fast" development, Weiye Holdings Ltd will also explore and innovate, take efficient action, and strive forward with full courage, to pay back all its shareholders and customers with good business performance.